We would like to take a moment to let you know about us on a personal level. We are totally dedicated to this hybrid breed and the WELFARE of our pets. This is a great passion. We totally love animals and couldn't imagine our life without them. This love affair started years and years ago when we had animals as children. We have even had experience in the show world of both dogs and horses. This includes experience in obedience training. Our love of animals will never cease because it is an immense part of who we are. That being said, you can bet that these precious puppies are raised with careful consideration and tremendous amount of love! When they are born in our KITCHEN, I imprint each and every one of them with a gentle rub and a smooch on the head! That first week I hear every peep they make and I am up all through the night checking on them and making sure each one gets it's very important nourishment from momma. This is crucial to a great start in life. As the weeks go by, they grow and can finally manage to find their own way to suckle. At this time they go into our nursery. When they are in our nursery they are kept in a dual sided pen where as they explore they have to go around a barrier to go to the bathroom. This makes them think about not soiling where they eat and sleep. This is the beginning of crate training. This makes the transition of actual crate training much more successful. Momma goes outside to go potty. She gets frequent breaks where she can run around and stretch her legs and she also gets treats and lots of loving! My moms are very healthy and are in very good weight all the while they are nursing. I don't ever let them get run down or skinny! They are given the best of diet along with supplements. This protocol makes puppies & mommas very happy, and very healthy! The puppies also are very smart and catch on quickly to the barrier concept. They are also socialized every day and develop to be friendly, and very loving! The puppies are now developing their individual personalities and all of them love to give smooches! This is because we spend a lot of time handling them and they love us! All of this care is done by US, not by people we hire. After the puppies are weaned all the moms go for a spa day. They love going for a ride in the car and they love being pampered too.
There is a lot of research done in this process. This enables us to maintain the health and well being of our lovely pets and the puppies we raise from them! Bottom line is we love what we do and don't compromise anything. If you buy dogs of exceptional quality and of health tested parents ( at least 3 generations including the pup we raise up to breed) , they produce outstanding puppies! These puppies are of premium quality and that comes at a price. Our vet also sees all dogs and every single puppy we breed. Our puppies have excellent preventative care along with a holistic diet to ensure optimum health. They have also had a series of shots prior to going to their new homes. Our written guarantee is on our contract and we are here for consult, whenever you need us. We also will take the puppy or dog back should your circumstances change and re-home your pet for you. We will not allow them to end up in shelters or rescues. Mandatory-call us first! We would also hope that you do the responsible thing and have your hybrid dog spayed or neutered. HOWEVER, Spaying or neutering before the pup is full grown is not healthy for them!! Please wait until after 1 yr of age.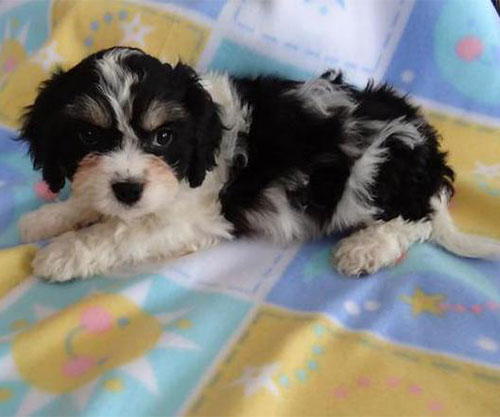 So when you are doing your research in trying to choose the right place to purchase your puppy keep in mind, you can get a great puppy that has been carefully planned and raised in a home with lots of premium care from Smooch Pups, or you can go somewhere else where quite possibly the puppy might be raised in a barn, exposed to rodents, insects and other elements that dwell in places that aren't conducive to "in home" living, but be careful because you could end up paying for the lack of initial care in the long run.
You will not regret your decision if you get a puppy from us. We are committed to you 24/7 after your purchase as well as during the process. This is a big commitment and we don't take it lightly. We have huge hearts and lots of passion for people as well as animals. This is exactly what we were supposed to do. If you want to experience a lot of love and JOY from a puppy that has been carefully considered, then please give us a call! Thank you for taking time to read this! 🧡
The Cavachon & Cavapoo are an outstanding family pet! They are not considered a purebred breed. They are a cross between a Cavalier King Charles Spaniel and a Bichon Frise or Poodle. They are extremely sweet, loyal, non-aggressive, intelligent, easy going, good nature'd , non yappy, loving, really easy to train, and last but not least, non-shedding! I'm sure they are even much more than that! Did I mention they get along well with other animals? lol! They come in a variety of colors and come in toy and standard sizes. The toys usually range in size from 6-14lbs and the standard are 15-25lbs.
Please feel free to call if you have questions or are looking for your precious new baby today!